Man
/
CODEC固有オプション
/
-x264encopts
/
qp
qp=<0-51> †
原文 †
This selects the quantizer to use for P-frames.
I- and B-frames are offset from this value by ip_factor and pb_factor, respec-tively.
20-40 is a useful range (default: 26).
Lower values result in better fidelity, but higher bitrates. 0 is lossless.
Note that quantization in H.264 works differently from MPEG-1/2/4:
H.264's quantization parameter (QP) is on a loga-rithmic scale.
The mapping is approximately H264QP = 12 +6*log2(MPEGQP).
For example, MPEG at QP=2 isequivalent to H.264 at QP=18.
・MEncoder dev-SVN-r21181-4.0.1 (C) 2000-2006 MPlayer Team
・x264 core:54 svn-602M

訳文 †
default=26
実用範囲:20〜40
0:ロスレス(FRExt)。
Pフレームに適用するquantizerの指定。
IフレームとBフレームに適用するquantizerはこの値を元にip_factor と pb_factorが少しずらして決める。
実用的な範囲は20〜40(デフォルトは26)。
低い数値ほどビットレートは高く、素材画質に忠実。0でロスレス。

H.264のquantizationはMPEG-1/2/4とは異なる事に注意:
H.264の quantizationパラメータ (QP)は対数尺を用いる。 換算すると概ねH264QP = 12 + 6*log2(MPEGQP)。例えば、MPEGのQP=2 は概ね H.264 の QP=18となる。
※訳注:対数は理解していないが、Xvidのquantizerは2が画質上限で、3,4,5,,,と整数しかなかったのが、0(ロスレス)を上限に少数が使えるようなものと思えばいいのだろう。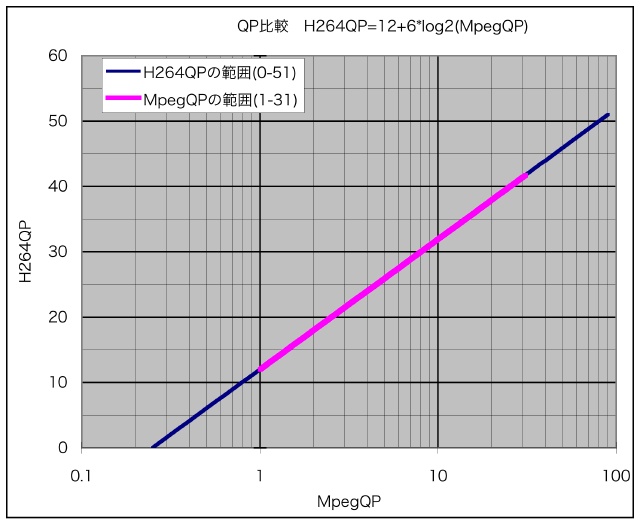 2ch/新Mac板/MPEG AVI MOV 総合スレッド15 282氏作成
参考 †
管理人は画質固定1パスエンコードにこれを使うのはお奨めしません。
crfも試してみて下さい。
---